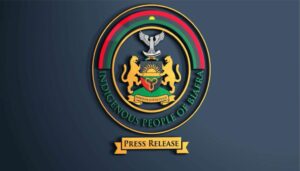 IPOB Press Release
June 21 2023 | IPOB
In line with the clarion call for Ndigbo abroad to come back home and invest, we the global family and movement of the Indigenous People of Biafra (IPOB) ably lead by Onyendu Mazi Nnamdi Kanu join other well-meaning Biafrans to call our people in the Western and Northern Regions of Nigeria to take their investments to Igbo Land (ala Igbo) to avoid destruction. Igbo adage says, "Aku rue ulo ekwu onye kpara ya."
IPOB sympathizes with our brothers and sisters in Lagos, who are currently victims of ethnic profiling and prejudice against Ndigbo and all Biafrans in Nigeria. Biafrans have been victims of human and economic destruction from fellow Nigerians right from the amalgamation of the three major nations into Nigeria by Britain up to today. It is high time Biafrans say enough is enough! Biafrans have lost countless lives and properties in their many decades of existence as Nigerians through religious and tribal riots in Northern Nigeria.
We came to understand that they are removing those buildings wrongly built on top of canal but following the hatred Yoruba politicians had against Ndigbo our people must be prepared because they will come for other buildings within the market, IPOB call on our people to be ready they are coming but they will regret their actions soon.
During the Nigeria genocidal war against Biafran, many Biafrans were massacred in cold blood, and their properties were confiscated in the Northern, Western, and even in some parts of Eastern Nigeria. During and after 2023 elections in Nigeria, Biafrans in Yoruba Land have been targeted for annihilation and economic sabotage due to political bigotry.
The ongoing destruction of major business places of Ndigbo and Biafrans in general, like portions of Alaba International Market, is one of their planned strategies to put a lot of Biafra hardworking youths into poverty. This is part of calculated strategies that will be rolled out in phases. Biafrans should not allow their hard-earned money to be thrown into the Lagos Lagoon as they have planned. It is time to return our families and investments home!
We are calling on Ndigbo and Great Biafrans at large in Lagos and throughout the northern parts of Nigeria to return home and build shopping malls, modern markets, supermarkets, and plazas in Biafra Land. On the other hand, we encourage our people to begin large- scale farming of Biafran staple foods. We had developed a buoyant economic region before the Nigeria government imposed their devastating economic policies that forced a lot of Biafrans out of the East.
Nevertheless, we are resilient spirited people whose businesses are doing much better than those outside Biafra Land. Together, we can provide our own vibrant economy that will be the envy of Nigerians and others.
Nigeria has time without number shown how much they despise us, and we must not despise ourselves by allowing them that pleasure. If we survived with their wicked £20 policy (the amount of money they gave every Igbo person who had any money in a Nigerian bank before the war), and three years of brutal civil war, but bounced back and built Nigeria up within 50 years, imagine what we can achieve if we concentrate on building up Biafra Land alone.
Dear Biafrans, it is time for us to think home. Nothing will happen to us. We must succeed because God Almighty, Chukwu Okike Abiama is always on our side anywhere we go. Lagos is not Biafra land. If you are told to leave Lagos, do that with all pleasure. We have enough land in Biafra for any infrastructural development.
It's unfortunate that many Yoruba elders are not speaking up against the ethnic attacks on Ndigbo and all Biafrans. However, we are urging Yoruba politicians not to destroy Biafrans' properties but give them time to take their properties and their movable assets to Igboland. Continuous destruction of properties of Biafrans will provoke unimaginable reactions that Yorubas are not expecting.
Allow our people to take their properties back home. Give them ample time. Many Biafrans are ready to leave your land but give them time to do so. Just remember that every action has consequences. You can't eat your cake and have it. Don't underrate Great Biafrans, or you will have yourself to blame.
IPOB supports those calling for our people to come back home. What is happening is a divine arrangement to gather us closer to fight for our exit from Nigeria, which will occur shortly. Biafran have tried their best to become Nigerians more than other Nigerians, but are left with no other options but Biafra Independence at this point. In the end, everyone will agree that Mazi Nnamdi KANU and IPOB have been right all along.
COMRADE EMMA POWERFUL, MEDIA, AND PUBLICITY SECRETARY FOR IPOB.
Published by:
Chibuike Nebeokike
For: IPOB