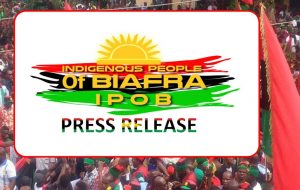 IPOB Press Release
April 19 2023 | IPOB
The global family and movement of the Indigenous People of Biafra (IPOB) under the command and leadership of our great leader Mazi Nnamdi KANU wish to remind the former president of Nigeria Chief Olusegun Obasanjo that Biafra is not dead and was never buried but much alive and eventually the Sun shall rise to never set again.
Chief Obasanjo, as a special guest at Professor Charles Chukwuma Soludo's one-year celebration in office at the event in Awka (Oka) Anambra State, erroneously said he believed that Biafra died and was buried on 13th January, 1970 during his comments at that occasion. How can Chief Obasanjo believe that an entire nation will die and be buried? Did he forget the warning of the surrendering officer, General Philip Effiong, when he warned Nigeria to treat the descendants of Biafra well, or they will rise up to continue the demand for a separate country?
Can Chief Obasanjo be sincere to himself that his government and subsequent ones treated Biafrans as equals in this country? We want to ask Chief Obasanjo, has there been any ethnic group in Nigeria that has been subjugated, maltreated, deprived, discriminated against, profiled, hated, militarized, and their youths murdered by the Nigeria State like Biafrans? Thank God that he, Obasanjo, publicly acknowledged that there is an "Igbophobia" in Nigeria. The hatred against Ndigbo in Nigeria is visible even to the blind.
We should not have responded to Chief Obasanjo, but we want him to bear in mind that Biafra is coming and very soon. We wish that God Almighty will keep him, Gowan, and other Biafra genocidists alive to witness and celebrate Biafrans whose mothers, fathers, brothers, sisters and ancestors they butchered in cold blood because of ethic profiling and hatred from 1967-1970. The hatred we are witnessing today from other Nigerians, if the country does not conduct Biafra referendum in peace, will soon cause it to implode in a more devastating way. This time, every part of Nigeria will feel the heat. It shall no longer be Biafra civil war, but every part of Nigeria will receive its own share of blood bath.
We want Chief Obasanjo and other interested groups to know that our demand for Biafra exit from Nigeria is not born out of hate for anyone but because we want to survive as a race. We have tried our best to belong and contribute to building Nigeria, which was founded on fraud and sustained with injustice and shared hatred against Biafrans, all to no avail. Our quest for Biafra referendum and independence is a quest for survival.
Chief Obasanjo, who wondered why there is "Igbophobia" in Nigeria, was the same president who oversaw an evil policy to close all Seaports in Biafra territory in his show of hatred. He ensured that Lagos became the only operational seaport in Nigeria, thereby putting Biafran territory on economic disadvantage over his Yoruba territory. Umu Igbo should Obasanjo be able to stand in ala Igbo and speak such words to us? Has Chief Obasanjo called the Nigeria government to obey their court order and release Mazi Nnamdi Kanu, whom the Courts have discharged and acquitted?
Therefore, he shouldn't patronize us with his hypocrisy. Biafra is our legal and human right and that we must get.
We want Chief Obasanjo to know that Biafra is not dead and definitely not buried. No amount of propaganda and blackmail against the IPOB movement will make us change our resolve to restore Biafra. We either restore Biafra or we die restoring Biafra. That's why we say Biafra or Biafra or Biafra.
COMRADE EMMA POWERFUL, MEDIA, AND PUBLICITY SECRETARY FOR IPOB.
Published by:
Chibuike Nebeokike
For: IPOB