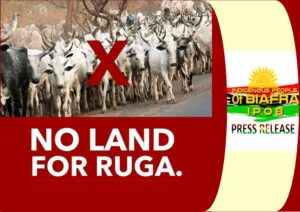 IPOB Press Release
July 10 2023 | IPOB
In a desperate effort by Imo State imposed Supreme Court Governor to please his imposers, Hope Uzodinma administration has taken over some portions of *Orji* Community and Amata community waterside in Owerri Imo State ancestorial lands for creation of Fulani settlement aka RUGA. It's important that Ndigbo should never allow Hope Uzodinma's selfish political interest and desperate second term ambition to mortgage the security and safety of the entire Igbo Land.
To that effect the global family and movement of the Indigenous People of Biafra (IPOB) ably led by our prophet and indefatigable liberator Mazi Nnamdi Okwuchukwu KANU condemn the harassment and intimidation of Orji Community and Amata community waterside the murderous Hope Uzodinma and his stooge Commissioner of Lands survey and Physical planning in Imo State, Mr. Nobel Abiaso Atulegwu in the bid to forcefully take their ancestorial lands.
The information at our disposal shows that this murderous and Fulani stooge government in Imo State took over some portions of Orji Community and Amata community waterside lands in the guise of Industrial Estate but in reality, it is for Fulani terrorists masquerading as herdsmen.
Hope Uzodinma and his criminal Commissioner for Lands survey and physical planning are doing the bidding of those who imposed them on Imo State to create insecurity so that the terrorist will have a settlement in Imo State.
Remember, terrorists don't thrive in a peaceful and organized society. The Imo government is a stooge for the Fulanization agenda in the Eastern Region. Remember that the Imo vampire sponsored some misguided Imo citizens to Hajj in Mecca this year, which they published on social media. In order to prove his success with the Fulanization agenda, those misguided and reprobates published viral videos in their Hajj attires thanking Hope Uzodinma for sponsoring them. But Chukwu Okike disgraced them by one of them being ejected and arrested from the same venue. That is what happens to people who sabotage their own people.
IPOB is not against any religion, but we will resist any form of political, religious, and ethnic conquest in whatever disguise our enemies present it. Imo State administrator and his imbecilic government can't take over any community land and hand it over to foreign invaders. It is not only stupid but damnable to the future generations of Ndigbo, therefore will not be tolerated.
Hopeless 'Uzodinjo' and his gang of government tugs should know that Imo State is not his father's estate, so he cannot decide to use any part of Imo land to lobby for his selfish political ambition.
No inch of Alaigbo will be taken over by anybody and hand over to Fulani invaders who have taken over Hausa Lands and desperately killed them and displaced the Middle-Belt people of Nigeria. IPOB will never allow any of such pretentious land grabbing and conquest to stand in Biafra Land.
We call on people of Orji and Amata, Owerri communities both home and abroad to stand up and resist Hope Uzodinma and his Commissioner who are under pressure to relinquish their community land for any fake Industrial Estate or prepare to fight future wars with the terrorists. Hope Uzodinma government's use of the instrumentality of force to grab community lands for his Fulani political masters has met a brick wall.
Therefore, we tell Fulani groups hiding behind the Hope's government to take over Orji Community land that they have failed. If they have made any financial engagements with Hope Uzodinma's government, they should go back and ask for their money. A leopard never changes its spot. He is a professional scammer and will continue to be that all his life. If they go ahead to occupy Orji Community ancestorial land, ESN will displace them.
Hope Uzodinma and his Commissioner for Lands game to mortgage Imo State for their selfish political interest to Fulani in the Eastern region is dead on arrival. IPOB will never allow any RUGA settlement anywhere in the Eastern Region.
COMRADE EMMA POWERFUL, MEDIA, AND PUBLICITY SECRETARY FOR IPOB
Published by:
Chibuike Nebeokike
For: IPOB