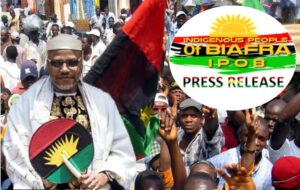 IPOB Press Release
March 29 2023 | IPOB
We the global movement and family of the Indigenous People of Biafra (IPOB) under the command and leadership of the great liberator Mazi Nnamdi Okwuchukwu KANU once again reiterate that IPOB is not part of the formation of "kangaroo" Biafra government in Exile anywhere. Also, there are no factions whatsoever in IPOB, and we do not have any link with autopilot groups.
Any group operating in whatever name or disguise outside IPOB under the leadership of Mazi Nnamdi KANU and the Directorate of State (DOS) is on their own. We warn all and sundry to cease and desist from using the name of IPOB, ESN, M-Branch, or Mazi Nnamdi Kanu in their name or in any operation that they carry out. All others must answer their own names and carry out their own operations for their own objectives.
The people behind the shambolic Radio Biafra government in exile in the USA are not IPOB members, and they should stop linking themselves to IPOB. We have often made it clear to Biafrans that IPOB has no hand on the purported Biafra government in exile. Those piloting government in exile in the USA are not IPOB members, and they don't mean well for Biafra freedom and restoration. They are politicians and not non-violent freedom fighting movement like IPOB.
Mazi Nnamdi KANU condemned and expelled traitors who tried to form the Biafra government in exile when he was in prison in Kuje in 2017. Fast-forward to 2022, when Mazi Nnamdi KANU is again in detention, a few traitors formed a kangaroo Biafra government in exile in the USA. IPOB has gone beyond the Biafra government in exile.
Those operating the kangaroo radio in the USA should stop linking their activities to IPOB because they are neither representing IPOB nor Mazi Nnamdi KANU in this Biafra movement.
Anyone giving attention to the noise makers calling themselves Biafra government in exile are doing so to his and her own peril.
IPOB is a peaceful movement and well rooted and focused on our set agenda focused on a Biafra referendum, which will culminate into our freedom.
IPOB is not divided and cannot be divided until Biafra is restored through a referendum. We won't relent in the pursuit of Biafra liberation no matter what may come our way.
Furthermore, IPOB has no plan to print Biafra currency, stamps, and other important state documents because we are not yet a sovereign nation. Those wild-goose chasers talking about the printing of Biafra currency with their faces on the currency are daydreamers. If we print currencies now, where can it be used as a legal tender? IPOB won't be cajoled into embarking on premature state endeavours.
Our people should stop following noise makers who disguise as people in the Biafra struggle to distracted IPOB and call attention to themselves. Our people should stop being emotional about the Biafra Independence so that they don't get fooled easily. There is time for everything as the struggle progresses. IPOB is carefully and patiently implementing every strategy towards our freedom.
Mazi Nnamdi KANU and the IPOB leadership represent the interest of all Biafrans. IPOB will consult all stakeholders in Biafraland and ensure that every decision taken reflects the character of all Biafrans in all the clans.
All we want is the unconditional release of our leader, Mazi Nnamdi KANU, and a Biafra Referendum date. And that we must get as long as Elohim lives.
All hail Biafra!
COMRADE EMMA, POWERFUL MEDIA, AND PUBLICITY SECRETARY FOR IPOB
Published by:
Chibuike Nebeokike
For: IPOB