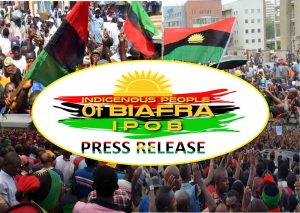 IPOB Press Release
May 28 2023 | IPOB
The global family and movement of the Indigenous People of Biafra (IPOB) ably led by the great and indefatigable leader Mazi Nnamdi Okwuchukwu KANU calls on Anambra State Governor, Prof. Charles Soludo to wake up and tackle both the internal and external security threats in the state.
This call has become necessary in the wake of increased activities of politically sponsored criminals and Fulani terrorists masquerading as herdsmen in some communities in Anambra State. This poses an endemic threat to the lives and properties of the affected communities and entire Igbo land because Anambra is the heartbeat of Igbo Land.
IPOB intelligence unit gathered that Mr. Chikodili Anara, aka Igbakigba, who is coincidentally the Commissioner for Homeland Security in Anambra State, is the man responsible for the insecurity in the state. This man was the former security adviser to the previous governor of Anambra State. He recruited armed criminals who are being used to intimidate, silence, and kill anyone who questions his rascality. The recruited criminal gangs are used to impersonate IPOB and ESN as they go into kidnapping and car snatching just to blackmail this noble movement.
He created and recruited an Anambra vigilante group (AVG) to murder anybody suspected to be an IPOB member, which hasn't yielded the desired outcome. We are monitoring his new strategy against IPOB. He will soon get what he is looking for. His voodoo powers will fail him soon.
The recent influx of Fulani terrorists nicknamed herdsmen in some communities in Anambra is the handiwork of this same Chikodili Anara. Among the communities that are witnessing the surge of strange faces and Fulani terrorists are: Igbariam Town, Achalla Town, Amanuke Town, Ugbene Town, Ukwulu Town, Nando Town, Urum Town, Mgbakwu Town, Isuana Ocha Town, Ebenebe Town, the whole of Awka North Including Ayamelum LGA, and Oyi LGA. Therefore, ESN Anambra state Command and villagers are advised to be on high alert in those axes that are witnessing the influx of strange individuals.
The influx of Fulani herdsmen into these communities mentioned above is causing tensions as the villagers are warned not to go to their farms or risk being killed by the terrorists. Thousands of acres of farm land belonging to our communities in those areas were forcefully taken from the indigenes and sold to the Miyetti Allah terrorist groups by Commissioner of Homeland security, Dishonourable Chikodili Anara (Igbakigba Amanuke).
This traitor Chikodili Anara used Supo Nwafor, the runaway criminal cop at Awkuzu SARS when he was on the service with some DSS agents in Anambra State to terrorise innocent people, burn their properties and forcefully take over their properties for his private use. Many petitions written against this man met the brick wall because of his alliance with monsters in the Nigeria Federal Government.
He even refused to honour invitations of Nigeria Police, DSS, and their National Assembly. He kills and maims without question. It looks like he is a demy god in Anambra State. But soon he will be unmasked like other monsters that have come before him.
Questions that beckons for answers are:
1. How did Dishonourable Chikodili Anara become so powerful that Nigeria Police, DSS can't bring him to order?
2. How has this individual become a law unto himself that he can arm criminals to terrorise people without questions?
3. Did Governor Charles Soludo approve his rascality and impunity?
4. Is Prof. Soludo, Anambra State Governor, part of the agenda to mortgage Anambra State for the Fulanization agenda in return for political favours?
5. Who gave Mr. Anara, the authority to forcefully take over communal lands and sell them to Miyetti Allah terrorist group?
6. Is he in some way doing the bidding of the Fulani caliphate so that they can later anoint his Anambra State Governorship ambition?
7. Who are those in Aso Rock supporting him to promote the Fulanization agenda in Anambra State?
But IPOB will expose the two partners in crimes where their powers are coming from beside Prof. Soludo Charles Chukwuma must investigate this two cannibals Mr Cosmos Okonkwo and Chikodili Anara or we confirm that he is the game to destroy Anambra state. Soludo must investigate him because we found out that he is not telling Soludo the truth.
All crimes committed by Chikodili Anara were with Cosmos Okonkwo his security adviser. These men have killed many secretly and must be investigated.
Whatever their agenda is, IPOB will never allow them to mortgage the future of Anambra State and the entire Ndigbo for their insatiable greed and unfortunate politics. Miyetti Allah and their terrorists will never be allowed to take over any inch of the ancestral lands of our people. We, therefore, call the leaders of Miyetti Allah to go back to Chikodili Anara and take back whatever money they paid to him because ESN will never allow them to settle anywhere in Biafra Land.
In the same vein, we call on Igbo youths never to allow themselves to be used as armed men by greedy politicians to help Fulanis capture any community in Igboland. That will be suicidal for our survival. Those who are in doubt of murderous Janjaweed should see what is happening in Plateau and many parts of the North. These were innocent Hausa communities that allowed some of their greedy and selfish politicians to sell their lands to Fulanis. Today, these communities have been taken over by Fulani terrorists and the villagers are being massacred without mercy. No responsible person should allow or support his own conquest because of money.
This greedy Fulani conquest agent called Chikodili Anara, and his thugs must be stopped now. IPOB and ESN call on our people to stop the disaster that is loading in Anambra State. Mr. Governor, Prof. Chukwuma Soludo should fire this man to save Anambra State unless the governor is in connival with the traitor to sell part of Anambra communities to Miyetti Allah terrorist group.
No matter what happens, IPOB and Ndigbo will never allow themselves to be conquered. Not now, not tomorrow, and not forever.
However, this report is made public for security awareness in Anambra as ESN will respond swiftly against these criminal groups set up to tarnish the image of Mazi Nnamdi Kanu, IPOB and ESN.
Don't forget to use IPOB enquirer numbers on signal +61 434294745 and +41 779069681 if you have information about the activities and hideouts of these criminals and terrorists in Anambra and other places within Biafra territory.
COMRADE EMMA POWERFUL, MEDIA, AND PUBLICITY SECRETARY FOR IPOB
Published by:
Chibuike Nebeokike
For: IPOB