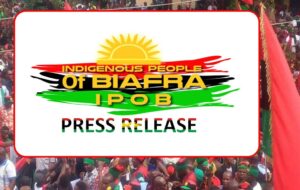 IPOB PRESS RELEASE
June 12 2023 | IPOB
The Federal Government of Nigeria sponsored and sustained the persecution and media blackmail against IPOB, and ESN, targeted at our leader, is a form of terrorism. With the help of compromised media such as Daily Trust, Nigeria Government and Nigeria Security Agencies have tried to no avail to portray IPOB and ESN as the aggressors. Nevertheless, the world knows that IPOB members are the victims of oppressive government and their murderous Security agents.
Ever since ESN was launched in December, 2020 to tackle the menace of Fulani terrorists nicknamed herdsmen, the Fulani Government of Nigeria has sponsored sustained security and media campaign against ESN, IPOB, and Mazi Nnamdi Kanu both locally and internationally. Nigeria Government went as far as arming some criminals operating as unknown gunmen to heighten the insecurity situation in the South East so as to make the world believe that IPOB's peaceful agitation is violent.
They even recruited the so-called repentant Boko Haram terrorists into the Nigeria Army and deployed them to the Southeastern Region. These soldiers have been seen killing innocent people and burning their houses as is in their nature as terrorists. In all these government sponsored blackmail, some media houses were paid to pin every crime in the Southeast Region on IPOB and ESN. The Government of Nigeria is revenging, victimizing, and punishing IPOB members and our leader Mazi Nnamdi KANU for frustrating the Fulanization agenda in the Southeast.
Prior to the launching of ESN, Fulani terrorists called herdsmen from the Sahel laid siege on our territory. These beasts were running amok, raping, murdering, dismembering the body parts of their victims, killing our farmers. They literally took over our bushes and forests, and our people were living in fear of attack daily. Thank God that ESN Operatives have successfully dislodged the terrorists out of our forests and bushes.
Now our people can go to the farm without being butchered. In their revenge for the terrorists being dislodged, the Federal Government of Nigeria has paid Daily Trust and a few brown envelope media houses to sustain media campaigns against ESN, IPOB, and Mazi Nnamdi Kanu to tarnish our image. They have also militarized our region, kidnapping, torturing, raping our women, and disappearing our people as a form of revenge.
But that will not deter us because we have the responsibility to defend our land against State sponsored terrorists whose agenda is to take over our land like they did in Northern Nigeria. As long as IPOB exists, the agenda to conquer and fulanized our land will only remain a dream unfulfilled for the Fulani terrorist government of Nigeria.
All these fake reports from Fulani media, Daily Trust against Ndigbo, and IPOB are all fabrication and propaganda. We are no longer moved by their blackmail tactics because the Nigeria Government have never presented verifiable evidence of any crime against IPOB. But we can provide verifiable avalanche of evidence of murder, arson, abduction, torture, and extrajudicial executions against Nigeria Security.
We have said in several press releases that we do not know who the unknown gunmen are. We also have maintained that Nigeria Police, DSS, and Military know these unknown gunmen because they recruited them to make IPOB's peaceful agitation seem violent and unattractive to our people. It is the nature of the Nigerian government to create factions to demonize this peaceful struggle for self-determination. They did that during ENDSARS peaceful protest, but it did not work.
Daily Trust media have never reported the illegal abductions, slaughter, and burning of homes of Biafrans by Nigeria Security agencies. Nigeria Government and its compromised security agencies laid siege on Biafra territory and have murdered many innocent people in cold-blood, particularly in Imo State, with the help of the Supreme Court imposed Governor, Hope Uzodinma
Nigeria terrorist Security agencies have burnt down properties worth billions of Naira in the Southeast without remorse. In Anambra, Imo, and Abia States, about 85, 105, and 85 peoples' houses, respectively, were burnt down by the Nigeria Security Agencies. Hundreds of families were made homeless in what could be referred to as State sponsored terrorist attacks against innocent citizens.
IPOB has lost over 1,100 members since 2016. Out of this number, about 567 of them were abducted and forcefully disappeared by Nigeria murderous Security Agents.
Nigeria Military and Police raped over 250 women, men, and children of IPOB in detention and committed forced abortion on some of them after they got them pregnant. We have records and evidence of all the crimes committed against our members.
The desperation at which Nigeria Government and its compromised Security Agencies keep linking IPOB to their sponsored criminal activities in the Southeast while they keep blind eyes to the terrorist's activities in the Northern part of Nigeria, is an act of ethnic cleansing which is the ethnic agenda of the Sokoto caliphate.
IPOB and ESN were not formed to humiliate innocent citizens, let alone of killing innocent citizens, and security personnel. We want to ask these agent provocateurs why the Northern caliphate has not apologized for pogrom where over 30,000 civilians of Igbo extraction were murdered in cold-blood in the North after their counter coup in 1966? When will Nigeria apologize for starving millions of Biafran children to death during the genocidal war against Biafra during 1967 and 1970 by the Nigeria government?
IPOB members are being victimized for defending our land against State sponsored terrorists' occupation. No amount of blackmail or persecution will terrorize us into submission. BIAFRA MUST BE RESTORED.
COMRADE EMMA POWERFUL, MEDIA, AND PUBLICITY SECRETARY FOR IPOB.
Published by:
Chibuike Nebeokike
For: IPOB