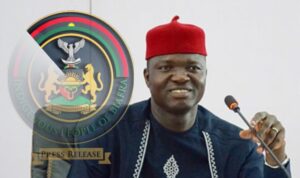 IPOB Press Release
July 28 2023 | IPOB
The attention of the global movement and family of the Indigenous People of Biafra (IPOB) ably led by the indefatigable Liberator Mazi Nnamdi Okwuchukwu KANU has been drawn to the kangaroo and vicious meeting hosted by the new Governor of Ebonyi State at Commissioner's quarters which was attended by Ebonyi Politicians, Traditional Rulers, and Security Agencies. We are aware of the meeting agenda, and the agreement was to identify, attack, arrest, and possibly kill every IPOB member and anybody seen to be a sympathiser of the Biafra agitation in Ebonyi State.
The questions we seek answers from some Igbo criminal politicians are:
1. What are the offenses of IPOB?
2. Have IPOB or ESN members involved in any violent attack of any community?
3. Are those Fulani killer herdsmen attacking Ebonyi communities, IPOB members?
4. Has IPOB and ESN helped to curtail the Fulani menace in Igbo Land?
Why then are some of these corrupt, useless idiotic politicians always working hard to destroy IPOB and ESN? Is it so that their RUGA projects will go unchallenged? No matter how hard they try, IPOB will never allow them to mortgage the land of Biafra to their Fulani masters. We will never allow Fulani to take any inch of our land. As long as Chukwu Okike Abiama is with us, IPOB remains indestructible because the ideology and spirit of Biafra are in every Biafran youth.
Let the new Governor of Ebonyi State, Mr. Francis Nwifuru, bear in mind that IPOB has no issue with him. But if you bring out your head, we will knock on it. IPOB and ESN have no problem with you, but your plan to arrest and kill innocent IPOB members will not go well with your government. IPOB and ESN are peaceful and protective of our land. They should be supported and protected, not destroyed.
The former Governor of Ebonyi State, Engr. Dave Umahi, we are aware you attended the said vicious meeting where the agreement was reached to lunch manhunt of IPOB members as if they are responsible for your bad leadership in Ebonyi state and those in Nigeria as a whole. You should have advised your boy, the new governor, to stay away from IPOB matters because he cannot withstand us.
Dave Umahi, you must warn this your clueless puppet you rigged into power who knew nothing about governance to be guided and stop his schemes to arrest and kill innocent IPOB to avoid creating nuisance Government for they great Ebonyi people. In the same way, IPOB outlived former APC government's treacherous shenanigans regime in the same way we shall overcome all our political enemies in the Biafra restoration project.
We are also warning all the Traditional Rulers in Ebonyi State to be very careful not to allow themselves to be used by wicked politicians to their own detriment. It will be callous for the Traditional Rulers to join Nigeria compromised Security Agents who hate Ndigbo to point out their children for extrajudicial executions because of crumbs from the table of the APC and Tinubu's government. Any Traditional Ruler who helps in the murder of any innocent and peaceful IPOB member has murdered his own sleep.
Any Traditional Ruler who involves himself in the matter concerning IPOB will regret his actions. Go ahead and obey the mandate from those who killed our ancestors and still kill our people to expose IPOB members in your communities and have yourself to blame. We are IPOB. We see and hear everything.
The Nigeria government and her security agencies, especially DSS, Police, and the Army, are compromised. They see Ndigbo as ants to be killed at will because of our resilience to achieve Biafra freedom and sovereignty. What else is Nigeria holding against Ndigbo, particularly IPOB members, outside our demand for self-determination through Biafra referendum?
Why are they arresting, torturing, forcefully disappearing, and shedding the blood of Igbo youths for demanding freedom from a murderous union called Nigeria? They should know that nothing else can stop IPOB's resolved but date for Biafra Referendum. Why are some Igbo Leaders so ignorant to question the Nigeria government why they want to kill IPOB members for demanding self-determination through a referendum? Why join hands with our collective enemies to kill our youths who are defending our Lands against State sponsored jihadists and terrorists?
Governor Nwifuru, we are monitoring your moves. Since you want to use IPOB to shine and show your political mastery that you are against Ndigbo, it won't go well with you and your government.
COMRADE EMMA POWERFUL, MEDIA, AND PUBLICITY SECRETARY FOR IPOB.
Published by:
Chibuike Nebeokike
For: IPOB