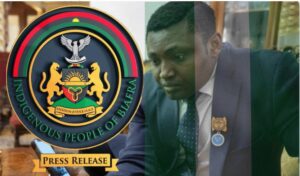 IPOB Press Release
July 31 2023 | IPOB
Sequel to the relentless falsehood being propagated by the double agent, Simon Ekpa and his cohorts in deceiving people into believing he is a member of this noble peaceful global movement of the Indigenous People of Biafra (IPOB) led by Onyendu Mazi Nnamdi KANU, it has become pertinent to further reemphasize to the public that the evil activities of the Finland based criminal Simon Ekpa is an aberration to IPOB's age-long methodology.
The violent enforcement of infamous sit-at-homes, kidnapping for ramson and snatching of cars, humiliating market women and school children cannot be traced to Onyendu Mazi Nnamdi Kanu nor IPOB. Simon Ekpa is a well-known agent of the Federal Government of Nigeria, sufficiently paid by the DSS for the evil course he is presently championing on our land.
Our people are therefore directed to ignore any media publication or falsehood attributing Simon Ekpa to IPOB membership or as a follower of Mazi Nnamdi KANU. Simon Ekpa is the head of autopilot group and their phantom Government in Exile.
IPOB is not as the same as autopilot group. The said Government in exile that exists only on the lips of Simon Ekpa and his few cohorts has no link or connection whatsoever with IPOB which is a global peaceful movement with Mazi Nnamdi KANU as the leader.
Ekpa was prior to this period well-groomed by the Nigerian DSS to usurp the leadership of IPOB in 2016 but that evil plans failed woefully.
It is also revealed that this same Simon Ekpa was the same person as the faceless Okwudili that DSS created in 2016 as the new leader of IPOB when our leader was in detention in 2016. Prior to this time, Simon was a hater of Ndigbo and particularly IPOB in Finland. IPOB members in Finland will attest to this.
The fact that the making of Simon Ekpa was the exclusive project of Nigerian DSS to create a situation of unrest and hostilities in the South East which the end product was to destroy the image of IPOB. But because IPOB is resolute and impenetrable, his evil mission has continued to suffer unprecedented set back till date.
Anybody who is in doubt as to the complicity of DSS and Nigerian Government in Simon Ekpa's activities should ask the following questions:
1. Why is Nigeria government not making any effort to diplomatically engage Finnish Government about visible hostilities of Ekpa?
2. Why did Nigeria suppress the Legal Investigation of Ekpa in Finland also his court cases in Nigeria?
3. Why has DSS refused to grant the request by Gov. Chukwuma Soludo to allow our Leader Onyendu Mazi Nnamdi Kanu to address Biafrans and those enforcing the senseless sit at home in his name?
4. Why is Nigeria government and some sections of media keep attributing all the activities of Simon Ekpa to IPOB even when IPOB has constantly disassociated ourselves from him?
If as mischievously claimed by Ekpa that he now enjoys the support and solidarity of our people, he should test his popularity by calling for a sit-at-home without reference to Our Leader's name, and see whether the few criminals enforcing his dubious sit at home will heed to his call. His constant use of Mazi Nnamdi KANU's name in his violent activities even when he has been warned by Mazi Nnamdi KANU is a demonstration that he was paid for such destructive agenda. But their end is coming soon.
It's on record, and needless to overstretch the fact that IPOB has fought and defeated many treacherous charlatans in the past. This double Agent Simon Ekperima shall go the same way others have gone. Thankfully, all his evil contrive has further been exposed beyond bounds.
Our findings have further disclosed that DSS is the chief sponsor of all criminal activities in our land, using their paid agent in the person of Simon Ekpa as a cover. Nigeria Government and her DSS should stop their covert sponsorship of insecurity in the South East by allowing Our Leader to address Biafrans via social media or phone if they are not complicit in the insecurity ravaging our land.
If the Federal Government and indeed the DSS is genuinely concerned about the insecurity ravaging the South East, and they are not complicit, they should allow Onyendu Mazi Nnamdi Kanu to speak to our people through phone and social media.
Evidence abounds that the Federal Government in conjunction with the DSS and some sections of the Nigerian Media are bankrolling, and effectively funding the evil activities of Simon Ekpa. We shall continue to exposed them until they have no place to hide any longer.
As long as our Leader has in his own handwriting issued a statement to criminal agent to end his infamous sit-at-home, we expect Biafrans to go about their normal businesses. Any person born of a woman that attempt to enforce it again in disregard to our leader's orders should be prepared to pay a supreme sacrifice.
Our people are therefore directed to henceforth go about their normal business activities, as IPOB is more ready now than ever to put every security arrangement in place to safe guard their lives and properties from the enemies of our land.
COMRADE EMMA POWERFUL MEDIA AND PUBLICITY SECRETARY FOR IPOB.
Published by:
Chibuike Nebeokike
For: IPOB