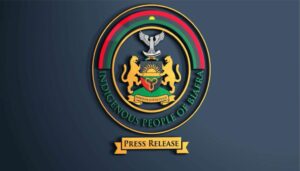 IPOB Press Release
The attention of the Indigenous People of Biafra (IPOB) has been drawn to a false statement attributed to the Defense Headquarters Spokesman claiming to have killed 7 IPOB members. This statement from the Nigerian army headquarters is not surprising bearing in mind that the Nigerian Army want to be seen as doing something against the general insecurity that has bedevilled the evil contraption called Nigeria.
The whole gamut of Nigerian Security agencies is only professional when it comes to lying. Their atrocities against non-combatant civilian populace well documented and known internationally. None of the 7 murdered victims of Nigerian State sponsored terror is IPOB/ESN. They are rather defenseless citizens going about their business in and around Eke Ututu market. Some were in their homes when they were abducted and executed military style and have nothing to do with IPOB membership.
The information at our disposal after rigorous investigation is that they are innocent members of the public going about their legitimate occupations who were mowed down by marauding soldiers. Their offence is simply being Igbo.
Igbo people have become endangered species that can be killed anytime without questions and without fear of being called to account as long as their killers term them IPOB/ESN. The Nigerian Security agencies are now the James Bond operating in Biafraland with licence to extra judicially kill any Indigenous person of Biafra. As this daily murder of their Children is happening, those who love to be called elders and leaders of the land have abandoned their people and decided to play ostrich in the face of such brutal ethnic cleansing being perpetuated by Fulani led Government.
Killing of unarmed defenseless citizens and tagging them "IPOB" or "ESN" members has become an endless spot for the compromised Nigerian Security Agencies peopled with Boko Haram and ISWAP operatives sent down to Biafraland for the ongoing ethnic cleansing of the Indigenous People of Biafra.
On 30th August, soldiers killed 2 block moulders and an elderly man of over 70 years and labelled them "IPOB members". The Nigeria Security Agencies have no power under the principles of International Law and Local Laws of the so called "Nigeria" to kill unarmed citizens on the basis of them being members of IPOB. IPOB is not a terrorist group or Organization rather it is the Nigeria Government that is a state sponsor of terror against innocent and defenceless Biafran citizens.
If Fulani controlled Government think that by using the terrorists recruited into Nigeria Army to kill many Igbo youths, it will stop the pursuit of Biafra, then they are dumb. If Biafra genocide which claimed the lives of more than 5.5 million Biafrans could not stop our fight for liberty and freedom and the quest for the Sovereignty of Biafra, there is nothing that the ZOO NIGERIA WILL DO TO STOP OUR MARCH TO FREEDOM. The earlier they comprehend this truth and fact the better for them because the vengeance of CHUKWUOKIKEABIAMA on them will be earth shattering.
Biafra is our promise Land and whatever price to pay so as to get into that Land, we are ready for it. As the Leader of the Indigenous People of Biafra Onyendu Mazi Nnamdi Kanu will always say "we have crossed the Rubicon, hence there is no more turning back until the glory of Biafra is restored".
COMRADE EMMA POWERFUL
MEDIA AND PUBLICITY SECRETARY FOR IPOB
Published by:
Chibuike Nebeokike
For: IPOB