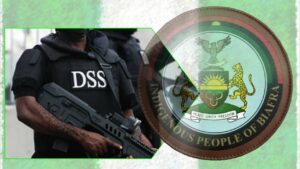 IPOB Press Release
March 14 2023 | IPOB
The attention of the global movement and family of the Indigenous People of Biafra (IPOB) under the command and leadership of the indefatigable Liberator Mazi Nnamdi Okwuchukwu KANU has been drawn to the fabricated and concocted lies from one Adeyemi Olumide who was paid by DSS Agency to malign IPOB Movement, Mazi Nnamdi KANU, and his Legal team in the hope that such bare-faced falsehood will divert attention from the DSS atrocities and cover-up their continuous violations of the fundamental human right of Mazi Nnamdi KANU who is still being illegally detained in DSS solitary confinement.
The desperation of the DSS to convict Mazi Nnamdi Kanu of their trumped-up charges at all costs has pushed them into making very amateurish mistakes like contracting a faceless Adeyemi Olumide to peddle fabricated and concocted lies against a peaceful IPOB movement, Mazi Nnamdi Kanu, as well as against the dogged legal team of Mazi Nnamdi Kanu, especially the person of Barr. Ifeanyi Ejiofor has refused to give up on Mazi Nnamdi KANU notwithstanding the intimidation from the DSS and several attempts on his life, his family, his associates, and the burning down of his properties and his country home.
Writing through a faceless Adeyemi Adegoke Olumide to help launder their battered image and to blackmail the person of Mazi Nnamdi KANU who was illegally renditioned from Kenya to Nigeria in a bid to cover their atrocities from the public and the International Communities simply reveals the level of disrepute and infamy the DSS has fallen.
IPOB Intelligence Unit, the M-Branch has been monitoring this DSS agent called Adeyemi Adegoke Olumide when he was recruited by DSS to use some already contracted Nigeria media channel to malign IPOB, Mazi Nnamdi KANU, and his uncompromising Lawyer in the IPOB legal team. The agenda of DSS then and now is to discourage the lawyers, deceive the general public by spreading a false deceptive narrative and paint a picture that Mazi Nnamdi KANU is absolutely fine in solitary confinement.
A common-sense question for the DSS is whether anyone is ever fine in their solitary confinement facility, especially someone they have refused a change of clothes, refused his praying shawl, and denied access to his personal Doctor when they are fully aware that he has a health issue. What this DSS-paid idiot doesn't know is that Mazi Nnamdi Kanu is being illegally detained by DSS after the Appeal Court discharged and acquitted him on the 13th of October 2022. More so, solitary confinement is a form of torture under the UN Convention against Torture.
Instead of DSS hiring a proxy media attack dog to cover up their evil activities, they should allow the independent specialist to investigate Mazi Nnamdi Kanu's physical and mental health and make the results of their findings public. Suppose DSS claimed that Mazi Nnamdi Kanu is adequately being taken care of and that IPOB and his lawyers are deceiving the public for sympathy.
In that case, they should allow unfiltered access to Mazi Nnamdi Kanu's personal physician to investigate his present health status. The DSS knew that they were no longer standing on the part of the truth, and IPOB would continue to expose them until justice is done to Mazi Nnamdi KANU, who has been under torture for the past eighteen months and counting through DSS solitary confinement.
IPOB has overcome many brutal physical and media attacks from the Nigerian government and all its security agencies because we are standing on the part of the truth.
Why is the Nigeria Government no longer invading ESN camps and parading arrested fake ESN Operatives? Why haven't they prosecuted the so-called arrested ESN Operatives in the law courts? Are they tired of releasing 'arrested ESN members' Nollywood movies? The ESN movie blackmail is no longer sellable because sophisticated IPOB media warriors burst their game.
ESN has nothing to do with unknown gunmen. ESN's mandate was and remains the same which is to clear our bushes and forest of Fulani terr0rists masquerading as herdsmen. Kudos to ESN for carrying out their mandate successfully irrespective of Nigeria's military attacks to dislodge them and create or provide easy passage of these blood-sucking Fulani terrorists. At last, our mothers and fathers in the Eastern Region can go to their farms without being raped or killed by Fulani terrorists.
This current media attacks from the imbecilic DSS paid blackmailer called Adeyemi Olumide will not in any way distract us from demanding the unconditional release of Mazi Nnamdi KANU and for Biafra Referendum.
It is imperative to deliver this message to the public that Mazi Nnamdi KANU's health condition is still deteriorating inside DSS solitary confinement as a result of poor or lack of medical attention and feeding. Mazi Nnamdi KANU has an unresolved nutrient deficiency. He also has an ear and heart condition that requires urgent surgery.
DSS should release Mazi Nnamdi Kanu unconditionally as ordered by the court or take him to specialists for proper medical examination and treatment. Recruiting media dogs to attack IPOB, Mazi Nnamdi Kanu, and his legal team will not exonerate them should anything bad happen to our leader in their DSS dungeon.
How could someone with a sane mind say that Barrister Ifeanyi Ejiofor, who has been under serious attacks from DSS and the Nigerian Army, is working against Mazi Nnamdi KANU or IPOB? DSS has applied many strategies, including intimidation and physical attacks, to force Ejiofor to step down as IPOB and Nnamdi KANU's counsel and has failed.
Now, they are using media to blackmail Barr. Ejiofor. It's now very obvious that all the attacks against Barr. Ejiofor both from inside and outside was scripted by DSS because he has refused to be bribed or intimidated. Mazi Nnamdi KANU, in one of his broadcasts, said Barr.  Ejiofor is uncompromisable. That's why he is always under attack from the DSS, paid media dogs, Nigeria Army, and their Police. Let the paid media attack dogs and DSS understand that IPOB is solidly and unwaveringly behind Barr. Ifeanyi Ejiofor, and that not even their concocted lies can persuade us otherwise.
DSS is taking advantage of harmless privileged communication between Mazi Nnamdi KANU and his lawyers, which usually takes place in a fully bugged DSS room, and secretly pass on a twisted, concocted, and adulterated version of this communication to the press after they must have been forced to swear an oath of no disclosure of the source of their news with the DSS.
The essence of passing these falsified versions of the privileged communication between a lawyer and his client to unsuspecting members of the public is to continue to fuel the state of unrest in our region. The mainstream media that the DSS employs for this hatchet job includes Vanguard, Leadership, The Guardian, and Cable news network.
DSS is one of the most corrupt entities in Nigeria. They are the masters and engineers of all the insecurity in Nigeria, which includes Fulani terr0rists of which we know that some of these killer herdsmen are operatives of the DSS and members of the Nigerian Army. They are collecting money from some willing governors to instigate political problems in the country. In the Eastern Region, for instance, DSS is behind the unknown gunmen activities. We are calling on the international community to place their radar on the activities of this criminal entity in Nigeria known as DSS.
COMRADE EMMA POWERFUL, MEDIA AND PUBLICITY SECRETARY FOR IPOB
Published by:
Chibuike Nebeokike
For: IPOB