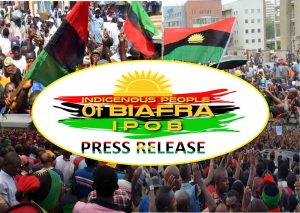 IPOB Press Release
October 28 2023 | IPOB
We, the global movement and family of the Indigenous People of Biafra (IPOB), ably led by the great and indefatigable liberator Mazi Nnamdi Okwuchukwu KANU commend the landmark judgement by Hon. Justice A. Onovo of Enugu State High Court on October 26, 2023, which absolved IPOB from the black-market Proscription.
Justice A. Onovo has demonstrated to the world that there are still judges who are willing to uphold justice even in the face of executive intimidation of the judiciary, particularly on the cases involving IPOB in Nigeria.
It is unfortunate that most Nigerian judges are intimidated into upholding injustices against IPOB members, thereby breaking both local and international laws. IPOB cases have exposed the weakness of Nigeria's judiciary, which has ridiculed Nigeria before the International Community.
IPOB equally commend IPOB legal teams for their legal astuteness and also being resolute and focused in their legal services. IPOB lawyers are men and women who understand the law, not quota system lawyers. They have been defeating the Nigeria government in their own courts. That is the reason the Federal Government of Nigeria has been running away from defending the black-market proscription order of Justice Abdul Kafarati against IPOB in the Appeal Court. Nevertheless, the latest judgment from Justice Onovo of Enugu State High Court has made the wicked black-market proscription order null and void.
This recent judgment from Justice Onovo of Enugu High Court has exonerated IPOB of obnoxious terrorist tag that the Nigeria government wickedly hung on the peaceful movement as a justification for violent suppression. In the eyes of the law and before the International Community, IPOB is not a terrorist organization. Those who jubilated when the black-market proscription was levelled against IPOB by the Fulani Government of Nigeria using an ethnic biased Justice Kafarati are now ashamed of themselves, especially those compromised media houses linking and tagging IPOB as a proscribed Organizations.
Justice A. Onovo of Enugu State High Court on the 26th day of October 2023 upturned the illegal proscription of IPOB imposed by an ethnic bigot government. This judgment will be recorded in the history book of remembrance. The book shall be read by the unborn generations that one courageous Judge overruled a bigotry judgment against peaceful IPOB who were fighting for the rebirth of Biafra Nation.
The then South East Governors and Ohanaeze Ndigbo leadership under Chief John Nnia Nwodo, who engineered the proscription of IPOB, shall also be captured in that history book. The wicked and illegal proscription led to illegal incarceration, extrajudicially killings, and forceful disappearances of many innocent Biafrans by the Nigeria murderous security agents.
History and Biafrans will never be kind to those behind this devilish act against innocent movement and family seeking for Biafra restoration.
Biafra restoration project is a divine mission under the invisible leadership of God Almighty Chukwu Okike Abiama himself. He alone will ensure that Biafra is restored in no distance time. Both those who opposed Biafra restoration and those who worked for it will rejoice and be rewarded at the rebirth of this Gods own nation.
All the court victories by IPOB as an organization and IPOB members are clear evidences that IPOB is indeed a lawful and peaceful movement seeking Biafra Independence through a well supervised UN referendum. No amount of intimidation from the Nigeria State will stop our resolve to restore Biafra.
God bless Biafra!
COMRADE EMMA POWERFUL, MEDIA, AND PUBLICITY SECRETARY FOR IPOB.
Published by:
Chibuike Nebeokike
For: IPOB