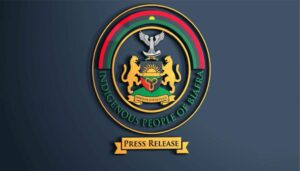 IPOB PRESS RELEASE
August 18 2023 | IPOB
We the global movement and family of the Indigenous People of Biafra (IPOB) ably led by the great and indefatigable leader Mazi Nnamdi KANU note with dismay the conspiratorial silence, lack of public condemnation and vociferous outcry of media pundits and Nigerians in general, over recent persistent deadly terrorist attacks against innocent civilians in the Northern part of Nigeria.
The skeletal media coverage of these heinous attacks is usually devoid of the ethnic jingoist venom that usually accompany reportage of any act of insecurity in the South East. Recently, terrorists from Northern Nigeria have laid siege to Niger, Zamfara, Plateau and swathes of Northern Nigeria, killing and maiming soldiers, downing Air Force attack helicopter and abducting countless number of terrified civilians.
Curiously and rather unfortunate, there has remained a partial to total media blackout of these brutal terrorist attacks by Northern elements on their communities because of the reluctance of those in power not to cast those responsible in bad light.
One wonders how the DSS, Nigeria military, Air Force and Police are not able to discover the hideouts of these Northern terrorists and bandits but claim they are discovering and bombing non-existent IPOB-ESN camps in the rain forests of Biafraland? The local political contractors controlling the apparatus of governance in Nigeria and their neo-colonialist allies, still intent on the subjugation and oppression of Easterners by continuing a proxy Nigeria-Biafra War that ended in 1970, should stop this barefaced hypocrisy and hatred against the Igbo race and give Biafrans the referendum we are asking for because self-determination is an inalienable RIGHT guaranteed by the laws of Nigeria. Our quest for referendum is a task that must be accomplished.
Security agencies in Nigeria living large on appropriated billions of Dollars in the name of fighting insecurity are scam artists. They have instituted another subsidy regime to fund their incompetence. INSECURITY SUBSIDY is but another fraudulent regime modelled on criminal scheme developed by their political counterparts called petrol subsidy. They should stop chasing shadows in the East claiming they are looking for IPOB and ESN operatives.
Had Nigeria Air Force jet come down in the South East during an alleged operation against ESN, all news outlets and pundits would have condemned every Igbo man alive by now.
Nigeria Government and its Security Agencies are experts in dishing out fake information against the peaceful IPOB as a cover to unleash shameless soldiers to maim, intimidate, and molest unarmed, civilians in the East. As the DSS have hired some criminals at home and abroad to destabilize the South East in their quest to divide and destroy IPOB from within. They have effectively compromised some media outlets to misinform the public against the peaceful global movement-IPOB.
COMRADE EMMA POWERFUL, MEDIA, AND PUBLICITY SECRETARY FOR IPOB.
Published by:
Chibuike Nebeokike
For: IPOB