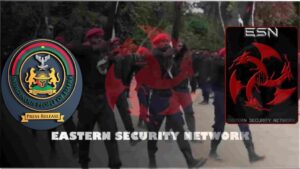 IPOB PRESS RELEASE
August 17 2023 | IPOB
The global family and movement of the Indigenous People of Biafra (IPOB) led by the great and indefatigable leader Mazi Nnamdi Okwuchukwu KANU wish to state on record and in direct rebuttal of the blatant falsehood being peddled by mischief makers within the corridors of power in Abuja and its Security Agencies living large on inflated security budgetary allocations, that the great ESN founded by our leader have no camps in the forests of Biafraland. What ESN have been strategically located staging posts at our borders from which numerous armed incursions into Biafraland by killer Janjaweed herdsmen have been repelled on countless occasions.
Therefore, the well-worn propaganda of the government sponsored media houses linking any alleged criminal hideouts to ESN is a futile effort to undermine and diminish the critical work being undertaken by gallant men and women to preserve our land and secure the lives of our farmers.
The mischievous mischaracterization of the activities of ESN that saved the entire South-East and South-South from the murderous onslaught of the terrorists' killer herdsmen now ravaging Benue and Plateau axis should not be trivialized by attributing any alleged criminal hideout to ESN.
ESN outposts do not and will not condone criminal elements. We know there are concerted efforts by those intent on using cattle as a ruse to conquer and subjugate indigenous populations to the dictates of external domination and servitude; to weaken the public standing of ESN in order to relaunch a murderous invasion of the East under the guise of farmer/herder clash.
ESN is not the armed or military wing of IPOB, it solely exists to keep Biafrans safe from the ravages of Janjaweed terrorist killer herdsmen now plaguing Benue and Plateau States. Since the launch of ESN by our Supreme Leader, Mazi Nnamdi KANU, the main objective of ensuring the safety of farmlands in the East has been largely accomplished. The Janjaweed terrorists masquerading as herdsmen have been denied the space to operate with impunity unlike what obtained prior to the coming of ESN. Today the East has been spared the excesses of these marauders.
Had it not been for the timely intervention of ESN, terrorists masquerading as herdsmen, with the help of security agencies, would have overrun Enugu, Anambra, Ebonyi states that came under sustained attacks about two and a half years ago. The East would have suffered the same fate now being endured by Southern Kaduna, Benue, Plateau and other indigenes of the Middle Belt.
ESN has come to stay in Biafraland and no amount of government funded propaganda will change this fact. Those security agencies under pressure to justify their humongous security budgets should seek other avenues of explanation and stop this shameful habit of tarnishing the good name of ESN.
COMRADE EMMA POWERFUL, MEDIA, AND PUBLICITY SECRETARY FOR IPOB.
Published by:
Chibuike Nebeokike
For: IPOB