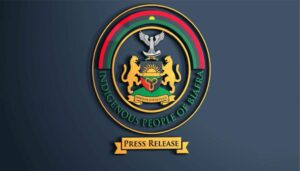 IPOB PRESS RELEASE
September 18 2023 | IPOB
Sequel to the unwarranted media blackmail, we the global family and movement of the Indigenous People of Biafra (IPOB) ably led by our resolute and charismatic leader Mazi Nnamdi Okwuchukwu KANU, a prisoner of conscience, condemn the use of our noble movement's name for political jamboree by Hope Uzodinma's political jobless touts like Mazi Lambert Umunnabuike.
Mr Lambert Umunnabuike is a sycophant and must not have the nerves to run his mouth by associating IPOB and ESN's names with what is happening in Ngor Okpala LGA or use the name of his clueless and non-existent Liberation Front in Ngor Okpala to attack IPOB. We don't know who he or his group, Liberation Front in Ngor Okpala LGA are.
If Mr Lambert Umunnabuike wants to play politics, he should not drag IPOB and ESN into their local Ngor Okpala politics because we do not engage in Nigeria politics let alone a Local government politics for that matter.
Mazi Lambert Umunnabuike, who claims to be the President of Ngor Okpala Liberation Front (NORLF), should focus on liberating his people but must not do politics with the names of IPOB or ESN.
IPOB is peacefully and diplomatically championing the freedom of our people without any intimidation to our people.
Similarly, ESN Operatives are highly disciplined and very focused on their primary assignment of flushing Fulani terrorists out of our bushes and forest. It is on record that the murderous Fulani activities in the East are almost over. Our people have been going to their farms unmolested in the past 2 years of ESN operations in the East.
ESN neither attacks infrastructures nor security agents. In spite of these very clear facts, IPOB still wrongfully faces criticisms and attacks from a few people and some security agencies and their agents.
In the face of these provocations from some Eastern Region politicians, we have remained civil and vow not to soil our hands. However, anyone dragging the hallowed name of IPOB and ESN into criminalities for Nigeria's dirt politics sake will live to regret it.
Mr Lambert Umunnabuike is an APC member, and we have nothing to do with APC and Hope Uzodinma's politics or the activities of his jobless touts. Anytime they raise false alarm by accusing and linking IPOB and ESN to their crimes, it is only a ploy to deploy Hope Uzodinma's killer squad called Ebubeagu into that community and the local government.
It is obvious that they are planning to deploy the murderous Ebubeagu squad in Ngor Okpala in preparation for the upcoming November governorship election. Therefore, Lambert Umunnabuike's false alarm is just a trigger. This jobless politician and his faceless group must know that IPOB are wiser than them. IPOB doesn't know him, and linking the criminal activities at Ngor Okpala to IPOB is a red line that he must resist to cross.
Is Lambert Umunnabuike so dumb or foolish that he is doing the bidding of his political master, the blood thirsty, Hope Uzodinma then he must leave IPOB and ESN out of his dirty politics, by disassociating IPOB with those enforcing the non-existent sit-at-home. IPOB leadership initiated sit-at-home but we did not do it to sabotage the Southeast Region. Lambert Umunnabuike recruited criminals, and infiltrators hijacked it while IPOB cancelled it by the time we found out that he recruited criminals to destroy IPOB's genuine plan towards the sit-at-home order.
Does he claim ignorance of the persistent and numerous press releases from IPOB and Mazi Nnamdi KANU disassociating ourselves from everything called sit-at-home and those enforcing it? Those individuals that this political jobber mentioned in his ill-conceived press release are unknown to IPOB. We guess they are APC political opponents that they have planned to eliminate or murder.
Mazi Lambert Umunnabuike must be stupid for saying that IPOB and ESN attacked Nigeria Security operatives in Ngor Okpala. Or that they have planned to attack Sam Mbakwe Airport at Okpala community in Ngor Okpala. This bizarre claim from a clueless political clown is uncalled for. The same way these political criminals in Imo State murdered Alhaji Ahmed Gulak in Imo State, they are planning more dangerous actions in order to double the cases of insecurity in Imo State so that they can scare people away from coming out to vote on the upcoming election day. This plan is hatched by none other than the vampire in Imo the State Government house himself, Hope Uzodinma.
Hope Uzodinma has bought over so many people, including traditional rulers, politicians, media houses, and political thugs "Agberos and cultists," in preparation for the November governorship election. Those who refused to be bought over by the most murderous governor in Nigeria will be harassed and possibly assassinated.
Sam Mbakwe Airport in Imo State was built from the contributions and sufferings of Ndi Imo must not be joked with or played politics with. Hope Uzodinma should know that airports are sacred areas that even in war situations are protected. Hope Uzodinma and his political criminals should never joke with Imo State owned Airport.
Going by the false alarm raised by Hope's political jobber, Mazi Lambert Umunnabuike, should anything happen to those individuals he named in his recent press release, he should be held responsible to account for them. More so, should there be any attack at Sam Mbakwe Airport at Ngor Okpala, Hope Uzodinma and Lambert Umunnabuike should be held responsible.
Mazi Lambert Umunnabuike should take this as the last warning. Refrain from politicking with IPOB and ESN or face the consequences.
COMRADE EMMA POWERFUL, MEDIA, AND PUBLICITY SECRETARY FOR IPOB.
Published by:
Chibuike Nebeokike
For: IPOB