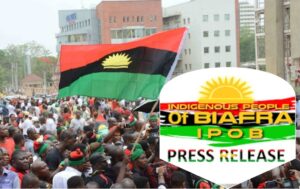 IPOB PRESS RELEASE
September 14 2023 | IPOB
The arbitrary arrest, detention, and extrajudicial murder of Biafrans, particularly Ndigbo by the Nigeria Police, Military, and DSS, using the instrumentality of their law is purely based on ethnic hatred. Prior to the Biafra genocidal war called Biafra Civil War and after, the ethnic hatred against Biafrans has been unabated. That is the reason IPOB led by our brave leader Mazi Nnamdi KANU has embarked on the Biafra Self- Determination quest to separate ourselves from the undeniable ethnic profiling and hatred.
It's no more news that Biafra land, particularly the Southeast, has been militarized with ethnic biased security agents whose agenda is to abduct Ndigbo for execution, organ harvesting, or for material extortions. Between 2013 and 2023, over 20,000 Biafrans, particularly Ndigbo, have been killed or declared missing after being abducted by the Nigeria Security Forces.
This genocide is going on a daily basis in a supposed democratic country called Nigeria. Daily, a lot of Igbo youths are extrajudicially killed or abducted and hulled away into detention facilities without bring charged with any crime all over Nigeria. There is no region in Nigeria that is militarized like the Southeast Region. Most of the time, the Nigeria government sponsors violent criminals in the s
Southeast so that they can justify their military siege on the region.
The Nigeria government, through a back-door court pronouncement, proscribed the peaceful movement of the Indigenous People of Biafra (IPOB) in 2017. The former Fulani Government used their Fulani ethnic biased Judge, Justice Abdu-Kafarati, to proscribed IPOB without IPOB having a legal representation. Which court gives judgment without hearing from the two parties except the Nigeria judiciary in their own court of law?
This can only happen in Nigeria, where injustice reigns supreme. Nigeria judiciary is the only judicial system that took a fourth position candidate and put him in the first position. The IPOB legal team challenged this black market under the table proscription. IPOB has been at the Appeals Court of Nigeria since 2018, but the Nigeria government suppressed the hearing of such appeal even when IPOB lawyers have fulfilled all the processes requirements.
The Nigeria Government, through her Security Forces capitalizing on the death of the justice system in Nigeria, anchors on the illegal proscription of IPOB to indiscriminately abduct and indefinitely detain many Biafrans particularly Ndigbo. In all detention facilities across Nigeria, 95% percent of the inmates are innocent Biafrans. Today, almost all the people detained in the Department of State Services, DSS are innocent IPOB Biafran citizens. Even if you released all the Boko Haram terrorists and bandits in the Abuja DSS, the facility will remain full of innocent Biafran civilians.
The Boko Haram in Military Detention facilities in the North have all been released without trial or explanation. In their place, innocent Biafrans, particularly Ndigbo, who have been kidnapped to fill up their places in those jails. These innocent people picked up by Security Forces along the streets are made to pay huge amounts of money or be branded IPOB or ESN and be executed.
Some of the victims of illegal abductions are held incommunicado, and their family members do not know of their whereabout. IPOB is not violent and has never been involved in any terrorism act, yet the Nigeria government clamped down on us while romancing with the terrorists in the north. This is pure ethnic profiling, hatred, and dehumanization. Tinubu must look at how Igbo people are being humiliated and victimized by DSS and security agencies.
The questions begging for answers are;
1. Why is the Nigeria government running away from their own court?
2. Why is Nigeria preventing their ethnically biased judicial counsels from fixing a date to hear our case challenging the illegal proscription of IPOB at their Appeals Court?
3. Why is the Nigeria government delaying the date for the Supreme Court hearing on the unconstitutional detention of Mazi Nnamdi KANU?
4. Why is the Nigeria government afraid of defending their violation of local and international laws on kidnapping and extraordinary rendition of Mazi Nnamdi KANU from Kenya to Nigeria at their Supreme Court?
5. If Nigeria hates Biafrans, why are they afraid of allowing Biafrans demand for a referendum and self-determination?
The ethnic hatred against Ndigbo and generally of Biafrans will never do Nigeria any good. Rather, it will hasten the destruction and dissolution of Nigeria. Biafrans will never change or succumb to threats or blackmail in the pursuit of Biafra freedom. If the Nigeria Government like, they should expand all Nigeria detention facilities and hull Biafrans inside. It wouldn't stop the agitation for Biafra. All injustices, dehumanization, and extrajudicial executions of Biafrans will be avenged in due time. In the same way Jews avenged the holocaust, Biafrans will avenge the Biafra genocide.
The International Community should caution and prevail on the Nigeria government, her murderous security agencies, and their compromised judiciary to uphold the law and order they claim to practice by stopping the indiscriminate arrest of innocent Biafrans. More so, they should release numerous Biafrans in illegal detention or better charge them to court if these people have committed any crime. The only crime they have committed is being Biafrans or Igbo by birth. Biafrans have become endangered persons or species in Nigeria.
Our Leader Mazi Nnamdi Okwuchukwu KANU must be released unconditionally based on subsisting Appeal Court judgment, or they should ask their Supreme Court to fix an accelerated hearing date on the Appeal before her. Nigeria cannot operate laws that are inconsistent with existing local and international laws. The Nigeria government can't hide forever.
The continuous illegal detention of Mazi Nnamdi Okwuchukwu KANU will destroy Nigeria's judiciary and corporate existence.
COMRADE EMMA POWERFUL, MEDIA, AND PUBLICITY SECRETARY FOR IPOB.
Published by:
Chibuike Nebeokike
For: IPOB