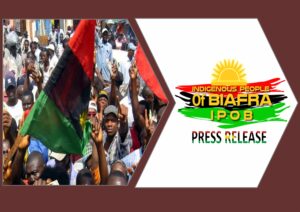 IPOB Press Release
June 04 2023 | IPOB
The global family and movement of the Indigenous People of Biafra (IPOB) ably led by the great leader Mazi Nnamdi Okwuchukwu KANU once again call for investigation, arrest, and prosecution of Anambra State Homeland Security Commissioner, Chikodili Anara, aka Igbakigba, for his involvement in the rising insecurity in some communities in Anambra State. The affected communities are Isuana Ocha Town, Ebenebe Town, Achalla Town, Amanuke Town, Ugbene Town, Ukwulu Town, Nando Town, Igbariam Town, Awka North and South, Oyi Local Government.
The atrocities happening in these communities were masterminded by Anambra Homeland Security Commissioner, Chikodili Anara, aka Igbakigba.
Anambra State Governor must investigate his Homeland Security Commissioner Chikodili Anara's relationship with some criminals operating at the above-named communities and Ogbaru. We maintain that Chikodili Anara, aka Igbakigba, is sponsoring these criminals operating in these communities.
He should be questioned about what is happening at Isiodo, Ugwuaborshi, and Achalla and those who are operating near his sister's house and those who climbed on top of trees monitoring when people are coming. Igbakigba is aware of the criminal camps at Ugwuaborshi and isiodo in the areas where they operate. He should explain why his Anambra Security outfit and Nigeria compromised security agents never attack the criminals' camps. They all have shared in the ramson these criminals collect from their victims.
The Commissioner, Anara must explain why his security outfit refused to chase those criminals away. Is it because they are partners in crime? It is known that some unscrupulous elements used my name, Emma Powerful to go and dupe some politicians, and that is what is happening with Igbakigba with those who visited him.
Those people claimed that they are Emma Powerful or that Emma Powerful sent them to go and dupe people. Such people are criminals and kidnappers and are trying to blackmail IPOB, ESN, and Emma Powerful, which is what Igbakigba did. Again, those people he mentioned in Anambra State who were arraigned at a court case, Powerful don't know them. Igbakigba, you must answer questions about what is happening in these communities because everyone knows your role in these criminal camps terrorizing our people.
The Homeland Security Commissioner, Mazi Chikodili Anara, aka Igbakigba, recently denied an attempt of a blackmail against my person, Emma Powerful. He was reacting to our exposition of his atrocities. I don't know who he mentioned in his denial statement that he had a court case.
IPOB has no other media director than Emma Powerful, who is still serving as the Media Director. I do not do the bidding of individuals but the bidding and interest of IPOB who serves the great people of Biafra. More so, Igbakigba should save his energy because Emma Powerful and IPOB will never meet him for any security dialogue and If the government of Anambra State fails to call Igbakigba to order for his involvement in the growing crime and insecurity in Anambra State, ESN will call him to order. In fact, ESN Operatives has been given special permission and orders to ensure they bring Igbakigba and his group to answer for their crimes unless the Governor, Prof. Soludo calls for his investigation and possible arrest.
Igbakigba is the sponsor of many criminal activities and cause of insecurity happening around Ogbaru because of oil bunkering. Igbakigba must have been aware of those who attacked the US Embassy staff convoy because his boys control the security around Ogbaru. Many kidnapping and car snatching operations within Anambra and Imo State were done under Igbakigba's nose. Some of the cars snatched were dismantled and sold in parts following his instructions.
We are sure of what we are saying about this man and his group. Professor Soludo must investigate Igbakigba if he is serious about curtailing the insecurity situation in Anambra State.
Until Chikodili Anara, aka Igbakigba and his criminal gangs, are investigated and apprehended, IPOB will continue to expose and follow up on him and other criminals in government in Biafra Land.
COMRADE EMMA POWERFUL, MEDIA, AND PUBLICITY SECRETARY FOR IPOB.
Published by:
Chibuike Nebeokike
For: IPOB