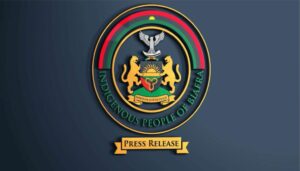 IPOB Press Release
June 05 2023 | IPOB
The Indigenous People of Biafra (IPOB), under the leadership of Mazi Nnamdi Kanu, wish to remind our people once again that Nigeria is irredeemable and was structured to spite Ndigbo. The earlier ALL of us realize that Nigeria was not designed to benefit Ndigbo, the better for us. Therefore, it's better for Ndigbo to rally behind Mazi Nnamdi KANU and IPOB to fight for the right to self-determination through a United Nation's supervised Biafra Referendum as the only viable option to achieve our collective potential.
It is imperative for Ndigbo to jettison Nigeria for those it was meant to benefit. Ndigbo should use their tongue to count their teeth. They should ask themselves what benefits they have realized from Nigeria since 1914 amalgamation until now and see if there's any reason to belong to Nigeria.
Influential Igbo sons and daughters both home and abroad should never think that Nigeria is for them. They should take a cue from the public disdain and ridicule the owners of Nigeria subjected Peter Obi to. Though many good Nigerians believed in Mr. Obi and they overwhelmingly voted for him to become their next president, but the owners of Nigeria decided otherwise. To them, it's better that Nigeria go to abyss than to let an Igbo man be their president. What happened to Obi will happen to Okeke and Okafor as long as we remain in this contraption called Nigeria.
Nigeria has since its conception, during the 1967 to 1970 genocidal war, until today shown that Ndigbo has not been allowed to be equal partners in their country. Let every Okeke and Okafor come together and fight for the unconditional release of Mazi Nnamdi KANU and the restoration of Biafra Nation. In Biafra, all of us will finally have a Homeland again and a nation of our own.
Though we are making a clarion call for all Biafrans, particularly Ndigbo, to support the struggle to break away from the oppressive and ethnic hate-filled country called Nigeria, IPOB has already drawn the battle line and nothing will stop this Biafra restoration. Therefore, we are calling on Ndigbo politicians, businessmen, and business women, and those who still think that Nigeria is for them to have a rethink. You can openly or covertly support the agitation for Biafra sovereignty.
Your support or betrayal will not stop Biafra restoration. Records are being kept for both supporters and betrayers, and each will be rewarded according to their deeds in due time.
Those piloting Nigeria affairs have shown that Ndigbo are not wanted. Those clamouring for Igbo Presidency 2023 have been disgraced. Not even Senate President nor House Speaker position was given to Ndigbo. What disdainful politicking to Ndigbo who contributes to the human and economic development of Nigeria? If the Jews didn't wake up from their slumber and fought for the Independent State of Israel in 1948 after they were profiled and slaughtered in Europe, how would they have become a Super Power today? Ndigbo has been profiled and slaughtered before the 60s, during 1967-1970, and until now. The profiling, abduction, and massacre of Ndigbo still goes on till today. Ndigbo, what are we waiting for?
Biafrans and Ndigbo in particular, please shine your eyes. We are no longer accepted or wanted in Nigeria. Let us fight for our destiny and posterity. We have the opportunity now. IPOB was formed with clean hearts and clear objective of Biafra Independence. Let everyone join hands together so that we can free ourselves and become a great nation that Chukwu Okike Abiama destined for us.
Biafra has the potential to become a superpower, but Nigeria is a British yoke of burden to prevent us from reaching our God-given potential. IPOB has broken the yoke.
COMRADE EMMA POWERFUL, MEDIA, AND PUBLICITY SECRETARY FOR IPOB.
Published by:
Chibuike Nebeokike
For: IPOB