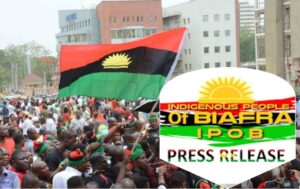 IPOB Press Release
October 31 2023 | IPOB
The attacks from the political jobbers created by DSS in the name of "Save Nigeria Movement" (SNM) led by a lone ranger and criminal convener Rev. Solomon Semaka is evidence of the fear that has gripped the Nigerian state. These chihuahuas speaking against the recent landmark judgment by Justice A O. Onovo of Enugu State High Court is evidence that the conveners of the movement are attack dogs of APC government created by DSS to demonise anything good coming to IPOB. If these attack dog SNM continue with attacks on IPOB, we shall sink them.
The criminal convener of SNM Rev. Solomon Semaka has come out again to disgrace himself and his political charlatan group created by DSS by accusing IPOB of intimidating justice or buying judgment from Justice A. O. Onovo to declare their black-market proscription of IPOB illegal and unconstitutional.
Nobody has intimidated this honourable Justice A. O. Onovo. Instead, it is the Nigerian Government and its Security Agencies, especially DSS and EFCC, that intimidate Nigeria judges to violate the constitution in order to persecute those with dissenting opinions and to put Nigeria into a perpetually mess.
The intimidating of the judiciary in Nigeria is a regular occurrence, but the executive attack dog called Save Nigeria Movement will never speak against it. This group should be called "Save Corruption in Nigeria Movement" because that's exactly what they do. If the government attack dog called SNM continues defending the illegality, they will hasten the collapse of Nigeria, and they will have no silly country to save.
The recent judgment by Justice A.O Onovo of Enugu State High Court is a judgment devoid of bias and in line with the provisions of the law. The honourable judge is helping to redeem the battered image of Nigeria Judiciary. But for the idiotic, criminal political jobbers in SNM to accuse the judge of being intimidated is a calculated attempt to call on the Federal Government of Nigeria to punish the judge for upholding the rule of law. We understand how the Nigeria government uses their proxies funded by DSS to blackmail their targets.
Anytime the Federal Government wants to intimidate or persecute any Judge who have refused to bend Justice for them, they inform DSS to hire or form some useless idiots in Civil Society or in the religious circles to accuse the Judge of wrong doing. If their goons don't, they seek EFCC and ICPC on their targets for investigation and detention. That is the dirty game that groups like SNM play for the undemocratic and oppressive government of Nigeria.
This political jobber called Save Nigeria Movement is among those demarketing Nigeria because of their hatred against IPOB and Mazi Nnamdi Kanu and Ndigbo in general. The charlatans and their convener are a bunch of fools for referring to Justice A. O. Onovo's judgment as rubbish and bizarre.
On September 20, 2017, Justice Abdu Kafarati gave a black-market order proscribing IPOB as a self- determination movement without IPOB's legal representation in his court. Such order proscribing a peaceful movement has no basis in law, and the Federal Government of Nigeria has been running from IPOB's appeal since 2018. As the Federal Government is intimidating Abuja Appeal Court Justices from hearing the illegal proscription appeal before her, the Enugu High Court, presided by another brave Judge, has declared the infamous black-market proscription as illegal and unconstitutional.
That is why the likes of fake Rev. Solomon Semaka, a political jobber and tribal bigot, is casting aspersions on the honourable judge. Charlatans in SMN and their convener fake Rev Solomon Semaka should get ready for IPOB if they have received a contract to become attack dogs (chihuahuas)against the IPOB movement. We know they are DSS personnel, but we cannot relent on what we are going to do to them. We shall sink them the way we sank other enemies and political jobbers who wanted to use IPOB for relevance.
IPOB is not violent. We don't kill nor encourage the killing of anybody. Even in the face of highest provocations when the Fulani Government in Nigeria went to Kenya, kidnapped and renditioned our leader. Yet we kept our calm and remained peaceful. Even when the government contracted their proxy in Finland to recruit criminals to impersonate IPOB in their violent criminal activities, we defeated their agenda. It is on record that the DSS Director in Imo State exonerated IPOB from the criminalities going on in the southeast. Finally, Enugu State High Court quashed the black-market proscription tag on IPOB as a terrorist organization. We have chosen the path of peace until all the peaceful, political, and legal options are exhausted.
IPOB is on a divine project to restore God's own nation. By divine Providence, we shall defeat all the obstacles facing us. In the end, our leader, Mazi Nnamdi Kanu, will be released, and Biafra shall be restored.
God bless Biafra!
COMRADE EMMA POWERFUL, MEDIA, AND PUBLICITY SECRETARY FOR IPOB.
Published by:
Chibuike Nebeokike
For: IPOB