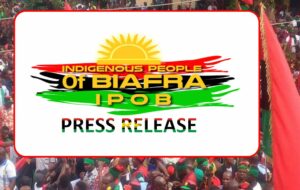 IPOB Press Release
November 03 2023 | IPOB
The global family and movement of the Indigenous People of Biafra (IPOB) ably led by the great and indefatigable liberator Mazi Nnamdi Okwuchukwu KANU warns INEC not to throw Imo State into political crisis in the coming Imo State gubernatorial election.
As much as IPOB does not get involved in the Nigeria fraudulent political selection called election, nevertheless, we are not going to be silent and watch the Nigeria Government use corrupt INEC officials to perpetuate evil in Imo State and by extension the Southeast Region.
Everyone is familiar with INEC's fraudulent activities during elections in Nigeria. INEC is not independent but fully dependent on the government in power or to any moneybag politician who lines their pockets. However, in this coming election in Imo State, INEC officials must very circumspect not to throw Imo State into crisis by becoming willing tools to renew another four years-mandate of suffering, hunger, and killings.
INEC officials must not be another Supreme Court that imposed a rejected candidate on Imo Indigenes using the fulanized Supreme Court. That illegality of the Supreme Court threw Imo State into unwarranted suffering, political intimidation, and mass killings.
IPOB members are not politicians and neither partisan, but we are against any political party or government that is toxic to our people. The Supreme Court Governor in Imo State, Hope Uzodinma is a murderer and a mass killer who has killed and forcefully disappeared a lot of people in Imo State. He has ensured that insecurity reigns supreme in Imo State and beyond. Those who are colluding with him to rig him back into power should watch their back. He who fetches an ant infested firewood has indirectly invited lizards for a party.
Therefore, INEC officials that Hope Uzodinma handpicked and drafted to rig the Imo State election should be very careful not to buy a market that comes with heavy prices. We want these drafted INEC officials to know that Imo State people are groaning in pains from a killer government and it will be suicidal for them to subvert their wishes in this coming election because of money or threat. If you can't stand the threat and can't say no to bribes to subvert the will of Imo citizens, you have the time to back off. But should you subvert the will of the people, be ready for the consequences. Ndi Imo and IPOB intelligence in Imo State are watching.
The IPOB intelligence has uncovered some INEC officials that have been drafted to various Imo State Local Government Areas to compromise election results in favour of Hope Uzodinma and APC. All these identified and named officials are from outside Imo State except one official. We advise every one of them to be professional or back off if they can't be neutral and do their job honestly. If they insist on doing the dirty job, then they should get ready for the consequences.
They are:
(1) Aboh Mbaise – Nnewedim Ijeoma Ursula (Abia state) Phone number 08038974747.
(2) Ahiazu Mbaise – Chukwuemeka Blessing Ugo (Abia state) 08037378664.
(3) Ehime Mbano- Ogbuehi Gloria Chinasa (Abia state) 07068881062.
(4) Ezinihitte- Nwosu Chigbo (Anambra State) 08039993935.
(5) Ideato North- Onuwasonya Anthony Nduka (Anambra State) 08033802213.
(6) Ideato South – Ahumibe Preye Ihugbam (Bayelsa State) 08035435712.
(7) Ihitte Uboma- Ezeabasili keme Felix (Anambra State) 0033325855.
(8) Ikeduru- Omeje Ikemechukwu Peter-(Enugu State) 08033024090.08033024090.
(9) Isiala Mbano- Nwaeze Elizabeth (Ebonyi state) 08030523663.
(10) Isu- Asagwara Ikechukwu-(Abia State) 08037783141.
(11) Mbaitoli- Nwabisi Theresa Nkiruka (Enugu State) 08037124769.
(12) Ngor Okpala- Ogbuishi Richadson Ikechukwu (Enugu State) 08036369580.
(13) Njaba- Nwaknwo Nkemakolam – (Abia State) 08035877989.
(14) Nkwerre- Okpara-Elom Ifeoma Antonia -(Enugu State) 08030965095.
(15) Nwangele- Obetta Chinyere Vivian (Enugu State) 07065408830.
(16) Obowo- Nonyelum Benjamin (Enugu State) 08035925625.
(17) Oguta- Obiechehie Ozioma (Abia State) 07034740374, 07011576162.
(18) Ohaji/Egbema- Nwosu Noel Ikenna- (Abia State) 08035988355.
(19) Okigwe – Uzor Chikwendu Victor- (Abia State) 08037225018.
(20) Onuimo-Ohabuiro Henry- (Abia State) 0803308034028216.
(21) Orlu- Okocha Godfrey Ogonda- (Rivers State) 08033102484.
(22) Orsu-Oranebo Ethelbert Ikenna- (Anambra State) 08033934168, 08078714117.
(23) Oru East- Okoli Abadnego (Anambra State) 08034510714
(24) Oru West- Uzoka Emmanuel Uchenna (Imo State) 080345227192
(25) Owerri Municipal- Ogbonna I.Ifeanyichukwu- (Enugu State) 08033575625
(26) Owerri North- Nnaji Ifeanyichukwu Henry-(Enugu State) 08030919961.
(27) Owerri West – Okike Emeka (Ebonyi State)08035608131. If you doubt IPOB to your own peril.
Imo citizens and Ndigbo should watch out for the INEC officers mentioned above call them to order. Anyone who compromises the November 11, 2023 governorship election in Imo State should be held accountable in whatever format available and the person should pursue to his or her home for betraying Ndi Imo state.
More so, those hotel owners in Owerri who have concluded plans to hand over their hotels to the Imo Administrator from the 4th to 11th of November as rigging centres, should be careful not to jeopardize their businesses after the elections. It will be stupid of any hotel owner to sacrifice his hotel business for political expediency. They are hereby warned.
Also, we declare that any religious leader, traditional ruler, or traditionalist campaigning for the Fulani imposed governor, murderous government in Imo State to continue is a hypocrite. That person may be directly or indirectly benefiting from the sponsored insecurity situation in Imo State. IPOB hereby advise willing voters in Imo State to go out and vote their preferred governorship candidate and defend their votes on the November 11, 2023 governorship election.
COMRADE EMMA POWERFUL, MEDIA, AND PUBLICITY SECRETARY FOR IPOB.
Published by:
Chibuike Nebeokike
For: IPOB