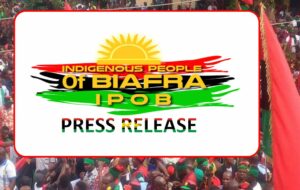 IPOB Press Release
February 05 2023 | IPOB
The attention of the global family and movement of the Indigenous People of Biafra (IPOB) under the command and leadership of our great leader Mazi Nnamdi KANU has been drawn to the criminal Ndubuisi Igwekala (alias Agu Biafra) who is claiming to be a leader and president of IPOB Youth Wing. We want the public and the good people of Biafra to know that there is no unit or department called IPOB Youth Wing in IPOB Structure.
This man and his co-conspirators may have been contracted by our enemies to form another unknown gunmen group in the name of IPOB to demonize IPOB.
The man Mazi Ndubuisi Igwekala, the self-claimed IPOB youth president, should tell the public who created and appointed him as IPOB Youth President.
Ndubuisi Igwekala alias Agu Biafra is a former MASSOB member sacked by the leadership of the group because of his criminal activities in MASSOB. If he thinks he can use the hallowed name of IPOB to continue his criminal activities, then he will go down with his evil agenda. Anybody who knows this criminal should advise him to stay away from his evil agenda because if IPOB catches him, he will have himself to blame.
IPOB has no group called IPOB Youth Wing, and we can never have such until Biafra comes. IPOB is IPOB with no attachment of any sort. Either you're IPOB or you are not. Anybody impersonating IPOB with whatever name is a traitor and must be treated as such.
Mazi Ndubuisi Igwekala is about to create another criminal gang in the South East Region. The more we try to stop one criminal group impersonating IPOB and ESN, the more our enemies are sponsoring other criminal groups to use ESN and IPOB names to perpetrate crimes to blackmail IPOB. Nevertheless, we shall continue to expose and dislodge the contracted infiltrators, distractors, and criminals paid to blackmail the peaceful struggle led by IPOB.
Nobody should impersonate IPOB in this way because IPOB is a peaceful movement seeking independence from the Nigeria State. We mean business, and many have paid with their lives for the struggle. We are not like those fighting for their stomach (Stomach freedom fighters).
Mazi Ndubuisi Igwekala and his co-conspirators in the fake IPOB Youth Wing should cease and desist from this activity, or they will say, "had we known."
Impersonation of IPOB is prohibited and a punishable offense by IPOB.
COMRADE EMMA POWERFUL, MEDIA, AND PUBLICITY SECRETARY FOR IPOB.
Published by:
Chibuike Nebeokike
For: IPOB