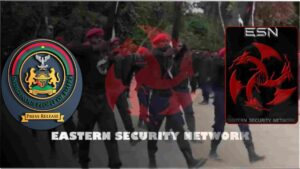 IPOB Press Release
February 05 2023 | IPOB
IPOB and ESN operatives don't indulge in such cowardice or political thuggery and assassination threats.
We are warning Chocho and his gang to stop using IPOB and ESN Operatives names again in this 2023. We cannot afford to allow them to use ESN's name in their criminal activities this year, 2023.
IPOB is a peaceful movement, and it's not in our DNA to go after people who are not our enemies. But if you have sold your soul to the devil and have become a tool in the hands of our enemies against innocent Biafrans and the struggle, then you have made yourself a target of IPOB and ESN.
Impersonating ESN is highly prohibited with a capital punishment penalty. If ESN catches you impersonating them, you will have yourself to blame. That is why we are calling on every state sponsored gang to stop linking the sacred name of ESN to their criminality or face capital punishment.
COMRADE EMMA POWERFUL, MEDIA, AND PUBLICITY SECRETARY FOR IPOB
Published by:
Chibuike Nebeokike
For: IPOB