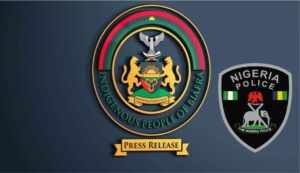 IPOB Press Release
May 02 2023 | IPOB
We, the global family and movement of the Indigenous People of Biafra (IPOB) under the command and leadership of our great and indefatigable leader Mazi Nnamdi KANU condemns Anambra Commissioner of Police for linking IPOB and ESN to the criminal activities in Anambra State and other parts of the Eastern Nigeria. Nigeria Police's habit of forcing criminals to confess as being members of IPOB or ESN is absurd and unprofessional.
We wonder how Nigeria police keep ridiculing themselves by linking the innocent members of IPOB to criminal activities because of their hatred and blackmail agenda against IPOB. The Nigerian police use of media to blackmail IPOB for crimes they themselves mastermind is crazy. They make their assertions without investigation, a mark of cowardice. How come those criminals whom Nigeria Police arranged to confess as belonging to IPOB or ESN are never arraigned in court in public? This makes mockery of professionalism of the Nigeria Police Force.
For public information, neither IPOB members nor ESN Operatives indulge in criminality. None of those criminals arrested belong to IPOB, but the Nigeria Police makes up their own news to blackmail our peaceful movement. On the other hand, it is public knowledge that some of the criminal gangs arrested so far had some serving as police officers or sacked police officers as their members. Nigeria Police is fully aware of the innocence of IPOB, but because of an agenda to blackmail, demonize, and get IPOB internationally proscribed, they run to media and link us with any criminal activities in Biafra Land.
The Nigeria Police Institution should be ashamed of themselves for breeding criminals who blackmail IPOB.
Those behind these criminalities of kidnapping in Anambra State and Eastern Region are not IPOB members or ESN Operatives. The Nigeria Police knew those who were the real criminals. IPOB doesn't indulge in such criminal activities like kidnapping, snatching of people's cars, and killing of innocent citizens. IPOB members and ESN Operatives are being hunted by the Nigeria government and her security agencies for protecting our lands against the invading Fulani terrorists nicknamed herdsmen. We cannot at the same time be kidnapping and committing crimes against the same Biafrans who we are protecting.
For Anambra State Police Commissioner, to name IPOB and ESN members as responsible for the kidnapping at Neni even when the criminals have been arrested, shows the evil agenda of the Nigerian Police Force.
Again, IPOB and ESN are focused on defending our lands from terrorists and on the restoration of Biafra as an independent state not on terrorising our own people.
COMRADE EMMA POWERFUL, MEDIA, AND PUBLICITY SECRETARY FOR IPOB.
Published by:
Chibuike Nebeokike
For: IPOB