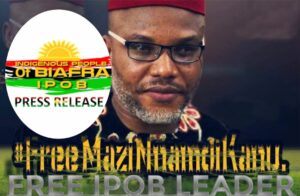 IPOB Press Release
May 03 2023 | IPOB
We, the global family of the Indigenous People of Biafra (IPOB) under the command and leadership of our great and indefatigable liberator Mazi Nnamdi Okwuchukwu KANU condemn the unguarded statements credited to the so called Southern Arewa forum against the unconditional release of Mazi Nnamdi Kanu. It is obvious that the mushroom Arewa group is displaying their ignorance and cluelessness to the public. They forgot that Nnamdi KANU'S case is in the hands of the Supreme Court of Nigeria to decide, not theirs.
It's unfortunate that we were forced into unity with people who don't subscribe to the rule of law. These people have dragged the reputation of Nigeria through the mud. Today, Nigeria is considered a pariah state among civilized nations.
The Clueless Arewa group should understand that Mazi Nnamdi KANU'S case has both local and international ramifications. Nigeria is a signatory to international treaties on self-determination and extradition acts. The Fulani, Arewa terrorist led government of Nigeria is perpetuating illegality, which will not go on forever without consequences.
The Supreme Court of Nigeria, being a Constitutional Court, has powers to uphold not only Nigeria laws but international laws, too. Mazi KANU's case presents a global opportunity for the Nigeria Supreme Court to either redeem or ruin her image and the image of their so-called country they serve. The unnecessary hatred from the clueless Arewa terrorist group against IPOB and Mazi Nnamdi KANU and their media barking cannot stop the rule of law from taking its place.
Let the uninformed Arewa terrorist group think we are insulting them. No! We are just correcting and letting them understand that they are not in charge of the Supreme Court of Nigeria as in the manner they speak. They are today seeing themselves as demy gods in this contraption called Nigeria. Their arrogance is provoking other Indigenous nations. These Arewa terrorist groups, both in government and in the bushes, commit all manner of crimes against the Indigenous Peoples and at the same time bully victims not to complain or seek justice. They should remember that power is transient and nothing lasts forever.
The impostor called Buhari and Fulani cabal in Aso Rock have, in their last 8 years, done their best to stop Biafra agitation championed by Mazi Nnamdi Kanu and IPOB and have failed. Who then, is this faceless Southern Arewa terrorist group making jest of themselves? This mushroom Southern Arewa terrorist group must stop linking themselves into a matter that is bigger than them because we have gone beyond media barking.
If indeed they are Arewa in the South, they should pray that Mazi Nnamdi KANU is unconditionally released for their own good and for their business's survival in the South. They should know that Mazi Nnamdi KANU is the trigger that can determine their stay or exit from Southern Nigeria. They must not take the gentility and peaceful movement of IPOB as weakness.
Biafra will come, and no one, including Arewa terrorists, can stop it. We are fully prepared and determined to restore Biafra Independence and sovereignty, and no human or group of terrorists can stop us. Therefore, faceless Southern Arewa terrorist group or whatever they call themselves should mind how they talk in public.
COMRADE EMMA POWERFUL, MEDIA, AND PUBLICITY SECRETARY FOR IPOB.
Published by:
Chibuike Nebeokike
For: IPOB